Environmental activities
Yasuhara Chemical is sustainable by not only developing and providing products that utilize environmental and human friendly natural raw materials , but also by considering the environment in all corporate activities from resource procurement to manufacturing, distribution and sales. We would like to contribute to the creation of a prosperous environment.
Basic policy on environment and safety
1.By developing safe and environmentally friendly products through effective utilization of natural products, we will provide products that contribute to the promotion of global environmental protection (resource saving, recycling, elimination of health hazards, etc.) in each industrial field. Contribute to society.
2.We will strive to protect the environment by reducing the environmental burden throughout the life cycle from product development to disposal.
3.We will continue to operate without accidents and disasters and ensure the safety of our employees and the local community.
4.We confirm the safety of raw materials and products, and prevent health problems for employees, logistics companies, customers, and other related people.
All employees should recognize the importance of this policy, comply with laws, standards and internal rules, and constantly strive for improvement.
May 2, 2006
YASUHARA CHEMICAL CO.,LTD.


Promotion shceme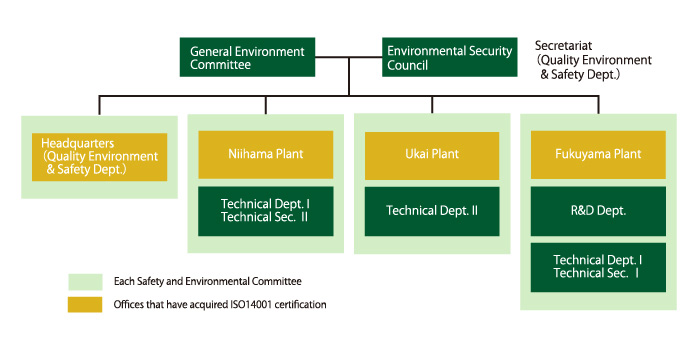 Environmental conservation activities
Promotion of energy saving

We will formulate a medium- to long-term energy conservation plan and promote energy conservation activities in collaboration with the manufacturing and administrative departments.
Reduction of CO2emissions

We will improve overall energy efficiency and strive to reduce CO2emissions.
We will also utilize biomass fuels such as vegetable distillation residues.
Reduction of emissions and movement of PRTR-targeted substances

Based on the PRTR Law, we report the amount of substances discharged and transferred every year. We will endeavor to reduce emissions and movements.
Reduction of industrial waste treatment consignment amount

We will strive to separate and recycle, reduce industrial waste and reduce basic units.



ISO 14001 Acquisition Status
| | |
| --- | --- |
| 【Acquisition Department】 | ■Niihama Plant |
| | ■Fukuyama Plant |
| | ■Ukai Plant |
| 【Certificate No.】 | JCQA-E-0264 |
| 【Registration Date】 | June 25, 2001 |
| 【Certification Body】 | JAPAN CHEMICAL QUALITY ASSURANCE LTD. |

Environmental and Social Report
This page introduces the environmental and social reports we have published to date in PDF format.
Through these reports, we hope to deepen communication with you and further enhance our activities. We hope you will take the time to read this report.