Production of Terpene
Production of Terpene
Turpentine oil is derived from pine resin and chips. Depending on how the oils are collected, they are classified as gum turpentine oil, sulphate turpentine oil, and wood turpentine oil. Orange oil is collected as a by-product of the juicing process.
We import turpentine oil and orange oil from overseas in tankers; they are then accepted and stored in the tanks at our plants in Japan.
The accepted oils are distilled and purified at the plant, and then separated and refined into various terpene components. The separated terpene components are processed to become products such as terpene resins, chemical products, and hot melt adhesives.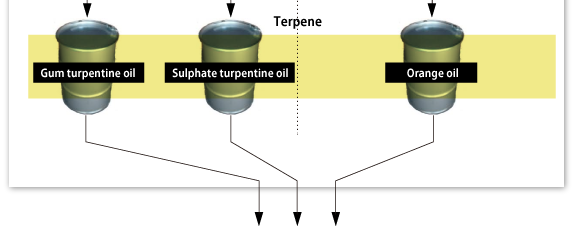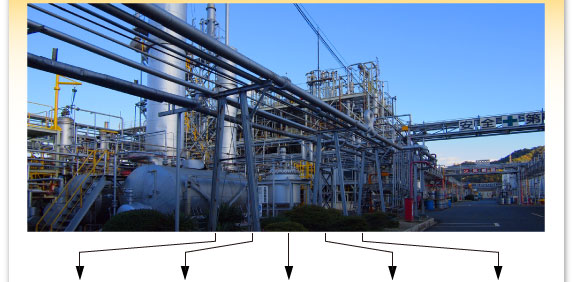 Polyterpene
Resin

Terpene
Phenolic Resin

Hydrogenated
Terpene Resin

Terpene
Delivatives

Terpene
Alcohol


Pressure Sensitive Tapes

Electrical Insulating Materials

Printing Ink
Sealing for Automobile Modifier, Plastic Modifier for Olefin,
Fragrance for Soap, Solvent