Products by Application
Easy Peelable Lids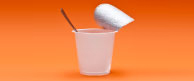 Our easy peelable sealant resins are used for the seal layer of easy peelable films for yogurts, jellies, and other food packages. Easy peelable films meet today's consumer needs for food package films to be easy to open while preserving the contents. Processed by extrusion processing, inflation processing, or other processes, our hot melt adhesives achieve the following two types of easy peel film: adhesive peel and cohesive peel.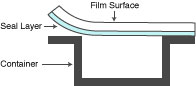 [ Adhesive Failure ]
An adhesive peel separates between the interface of the seal layer and container. Our hot melt adhesives achieve smooth and easy peeling and a clean separation surface.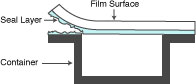 [ Cohesive Failure ]
For a cohesive peel, the seal layer splits when peeled. Our hot melt adhesives have a wide range of heat-seal temperatures, which are used to adjust the peel strength.
Packaging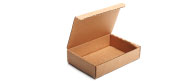 Our hot melt adhesives are used in packaging applications such as for sealing cartons and cardboard boxes.
We offer grades with excellent thermal stability and stringing properties.
Filters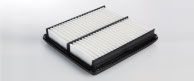 Our hot melt adhesives are used to bond spacers (retainers) and filters for air filters.