Hot Melt Adhesives for Easy Peelable Lids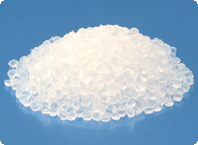 The HIRODINE 7000 series is a hot melt adhesive used as a sealing layer for easy peelable films. Being processed most commonly in an extrusion coating or cast film line, it offers low to high temperature seals and sealability to various substrates including PE, PP, PET, PS, metals, and papers. It is designed to provide both adhesive and cohesive peel seals. Besides easy peelable film applications, it is used for laminating or coating paper, paperboard, woven fabrics, and nonwoven fabrics. Some grades comply with Food and Drug Administration Regulations, European Union Directives, and other regulations.
Applications
Lids for food containers composed of plastic and other materials, Heat seal tapes, Aluminum foil coating (Food containers), etc.
Appearance
Pellet
■HIRODINE 7000 Series
Grade
Base
Polymer
MFR
(g/10min)
Vicat
Softening
Point
Major Sealing Substrates
Processes
Applications
PP
PS
PET
AL
PE
7511
EVA
11
57
◯
◯
Blown Film
Lidding for Jelly, pudding, yogurt, and others
7513
EVA
11
60
◯
◯
Extrusion coating & Cast Film
Lidding for Jelly, pudding, yogurt, and others
7514
EVA
10
49
◯
◯
Extrusion coating & Cast Film
Good for PVC, nonwoven fabrics, PC
7542
EVA
17
52
◯
◯
◯
◯
Extrusion coating &
Cast Film
Lidding for coffee, bento, and others. A-PET container
7546
EVA
11
56
◯
◯
◯
◯
Blown Film
Lidding for coffee, bento, and others. A-PET container