Hot Melt Adhesives for Packaging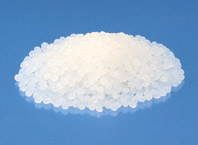 The HIRODINE 2000 series is a grade of adhesives used in packaging materials such as cardboard boxes and cartons. It is a safe adhesive made from plant-derived materials.
HIRODINE 2705, with their improved thermal stability, do not require maintenance during long periods of usage. Their enhanced stringing properties have contributed to improving the work environment.
Applications
Packages, Cardboards, Coated paper, A-type casers, Wraparounds, etc.
Appearance
Spherical
■HIRODINE 2000 Series
Grade
Appearance
Melt Viscosity
180℃ (mPa・s)
Softening Point
(℃)
Application and features
2313
Light yellow spherical
1,150
(160℃)
95
Nonskid for palletizing;
2705
Pale yellow spherical
870
111
Cardboards, Carton boxes;
Heat stable, Low
2733
Light yellow spherical
1,100
111
Cardboards; Low threading
2760
Light yellow spherical
1,900
(150℃)
114
Cardboards, Carton boxes;
Quick drying
2916
Light yellow spherical
900
109
Cardboards;