Aromatic Modified Terpene Resin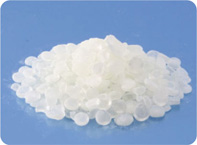 YS RESIN TO, with its high use rate of renewable materials, is an aromatic modified terpene resin displaying excellent compatibility with various elastomers and polymers. When formulated in EVA-based hot melt adhesives and SIS- and SBS-based hot melt adhesives, it exhibits well-balanced tackiness and adhesive properties.
It is also effective in modifying the formability, damping, and grip properties of various rubber-processed products. Our product line includes grades with high softening points, and YS RESIN TO125, with a softening point of 125ºC, is a tackifying resin produced exclusively by our company.
Applications
Synthetic rubber-based PSAs and adhesives (SIS, SBS, SEPS, SEBS), EVA-based adhesives, Modified-silicon-based adhesives, Caulking agents, Acrylic-based PSAs and adhesives, Metallocene polyethylene-based adhesives and PSAs, Tires and other rubber molded products
Appearance
Bead
* YS RESIN TO125 with a softening point of 125ºC is a product manufactured exclusively by Yasuhara Chemical.
■YS RESIN TO
Name of Products
Appearance
Softening Point
(℃)
Color
CAS RN
Packing
YS RESIN TO125
Bead
125±5
GS 2 max
64536-06-7
20kgs Bag
YS RESIN TO115
Bead
115±5
GS 2 max
64536-06-7
and other
20kgs Bag
YS RESIN TO105
Bead
105±5
GS 2 max
64536-06-7
and other
20kgs Bag
YS RESIN TO85
Bead or
Block
85±5
GS 2 max
64536-06-7
and other
20kgs Bag