Terpene Phenolic Resin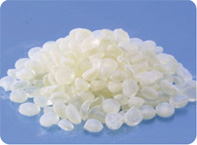 This is a resin obtained by copolymerization of the renewable material terpene monomer and phenol. By altering the phenol modification degree for each grade, we offer grades that are compatible with low to high polarity materials. Our grades improve the adhesion to difficult surfaces such as polyolefin resins.
Our high-softening-point grades have a high Tg (temperature of glass transition) and work as modifying agents for adhesives, improving heat resistance and cohesive properties. They also enhance the damping of various rubber products, flow of engineering plastic, and paintability.
Our terpene phenol resin is used to modify the properties of acrylic- and epoxy-based adhesives as well as various elastomer-type compositions.
Tackifying resin with properties of thermoplasticity and olefin refining additives
High-softening-point grades for high polarities and adhesive retardance
Applications
Acrylic-based adhesives and PSAs, Modified silicon-based adhesives, Sealants, Dampers and vibration retardant rubber, Tires, Rubber
Appearance
Bead
■YS POLYSTER U
Name of Products
Appearance
Softening Point
(℃)
Color
CAS RN
Packing
YS POLYSTER U130
Bead
130±5
GS 7 max
25359-84-6
and other
20kgs Bag
YS POLYSTER U115
Bead
115±5
GS 7 max
25359-84-6
and other
20kgs Bag
■YS POLYSTER T
Name of Products
Appearance
Softening Point
(℃)
Color
CAS RN
Packing
YS POLYSTER T160
Bead
160±5
GS 7 max
25359-84-6
20kgs Bag
YS POLYSTER T145
Bead
145±5
GS 7 max
25359-84-6
and other
20kgs Bag
YS POLYSTER T130
Bead
130±5
GS 7 max
25359-84-6
and other
20kgs Bag
YS POLYSTER T115
Bead
115±5
GS 7 max
25359-84-6
and other
20kgs Bag
YS POLYSTER T100
Bead
100±5
GS 12 max
25359-84-6
and other
20kgs Bag
YS POLYSTER T80
Bead or
Block
80±5
GS 12 max
25359-84-6
and other
20kgs Bag
■YS POLYSTER S
Name of Products
Appearance
Softening Point
(℃)
Color
CAS RN
Packing
YS POLYSTER S145
Bead
145±5
GS 7 max
25359-84-6
and other
20kgs Bag
■YS POLYSTER G
Name of Products
Appearance
Softening Point
(℃)
Color
CAS RN
Packing
YS POLYSTER G150
Bead
150±5
GS 7 max
25359-84-6
and other
20kgs Bag
YS POLYSTER G125
Bead
125±5
GS 7 max
25359-84-6
and other
20kgs Bag
■YS POLYSTER N
Name of Products
Appearance
Softening Point
(℃)
Color
CAS RN
Packing
YS POLYSTER N125
Bead
125±5
GS 7 max
25359-84-6
and other
20kgs Bag
■YS POLYSTER K
Name of Products
Appearance
Softening Point
(℃)
Color
CAS RN
Packing
YS POLYSTER K125
Bead
125±5
GS 7 max
25359-84-6
and other
20kgs Bag
■YS POLYSTER TH
Name of Products
Appearance
Softening Point
(℃)
Color
CAS RN
Packing
YS POLYSTER TH130
Flake
130±5
GS 2 max
25359-84-6
and other
20kgs Bag